L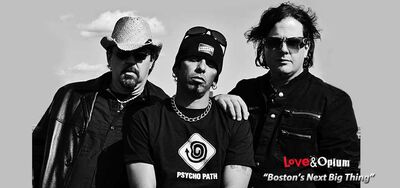 ove and Opium – a heavy hitting rock band with songs ranging from straight up metallic power grooves, to heartfelt emotional ballads and everything in between. The members of L&O have an extensive musical history within the MA/RI music scene.
Members of Love & Opium were responsible for creating two of New England's most influential musical outfits, Hammersmith & Blind Rhino (among others)
JoeyD Lead Vocals & the driving force behind L&O
His raw and explosive vocal style is both melodic and commanding on cuts such as "Boris", "Day Trippin'", "Dope, Sex & Money" and "Bloodflower". Rarely do you find a voice within this genre of music that crosses such a broad spectrum. Having toured across the states with his former band Blind Rhino, he is a seasoned road-dog and an intense live performer.
Eddie Mac Drums, Percussion, Piano, Bullhorn & the no-bullshit voice of reason
The rock-solid pulse of Team Opium. His thunderous bass-drum patterns evoke the spirit of the 1960's and 70's power drummers with a modern edge; hinting toward industrial and tribal rhythms. Having studied at the prestigious Berklee College of Music in Boston, Ed's knowledge of music extends far beyond the drum kit and is an essential element of the Love and Opium sound.
Mike Paull Guitar, Bass, Lead & Harmony Vocals & the musical director of L&O
Lots of guitarists can shred their asses off, but not many of them can write a great hook. Mike Paull manages to combine monster size riffs with fiery lead guitar lines and powerful vocal harmonies; a triple threat for modern rock radio. He is also the 2nd voice of L&O and brings added dimension to their sound on tracks such as "Say Goodbye", "Eternal", "Pray for Nothing" and "Dope, Sex & Money".